Have you noticed that some trade show exhibits stand out like giants in the exhibit hall?  This is because brands have elected to rent a double deck display for their exhibiting purposes.  A double deck display makes a big splash and offers so much versatility.  Consider the following when investigating your next trade show exhibit design:
A Double Deck Display Offers Ample Meeting Space
Trade show booth space is expensive.  How do you offer enough space for both demonstrations and private meetings?  The answer is to build up with a double deck display instead of upgrading to a larger and more expensive booth space. Using the top deck allows for client meetings, prospect meetings, and team meetings.  They can be semi-private without any protected glass or enclosed with glass to offer a more private setting.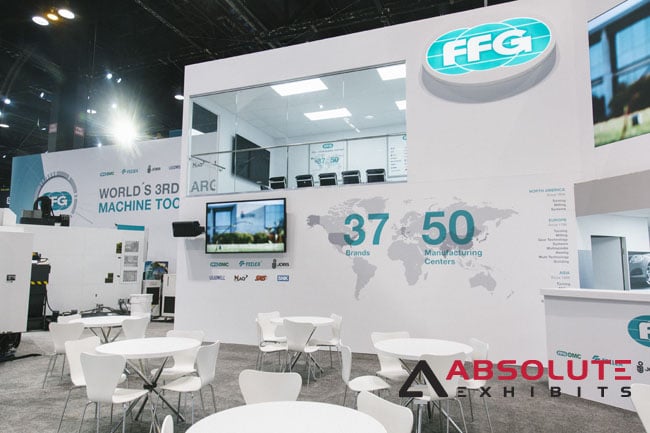 A Double Deck Display Can Offer Additional Lounging Space
Sometimes your team needs a place to rest, recharge, and to quickly eat their lunch before they head back out to the trade show floor.  A double deck display can offer a great space for the team to recharge, unwind, and to check on emails they may be missing from the office.  A double deck display can provide that environment for your team.  It can also be a cozier environment for your valued clients to rest and recharge after walking a large trade show floor.  By turning the top deck of your double deck display into a lounge, you can also create a space for a happy hour environment with your team and valued clients.  There are many options that makes this an attractive idea.
Brands Can Turn a Top Deck into a Classroom or Learning Environment
Sometimes products or services need a deeper dive than can be explained in an elevator pitch on the trade show floor.  By using your double deck display as a classroom or learning environment, brands can show videos or other multimedia to provide a deeper understanding.  Prospects can take their time asking questions and reviewing materials because of the extra space that the double deck display provides.
A Top Deck Can Serve as a Private Showroom or Display Area
If you're unveiling new products or designs, a double deck display can serve as a private showroom or display area.  This is particularly helpful for retailers who are not yet ready to go to market with a concept but want to generate interest among existing clients.  The privacy a double deck display can offer makes this an attractive option to test out new products.
If you'd like to maximize your space in your trade show exhibit, try a double deck display.  This versatile option can serve so many purposes without spreading out further on the trade show floor.  For more advice, consult your trusted Account Executive when you discuss design options.