When you walk the trade show floor, there are certain trade show booths that stand out among the crowd.  If you stop to think about it, it's not their size that makes you take notice.  It's likely something more subtle you're responding to. The three pillars of trade show design include color, light, and motion.  The way these are used in a trade show display often is what you're responding to when you're drawn to one trade show exhibit or another.  Consider how you can use these in your next trade show design:
Inject Your Next Trade Show Design with Color
Even if your brand colors aren't very bright or bold, there's many ways in which you can use color in your trade show design.  This can be subtle in your graphics, or they can be bold in elements like props, accent color walls, or in a hanging sign with your logo in white or black, depending on the color you choose for your sign. Don't shy away from integrating color into your trade show design so you can shine on the trade show floor.  Whether you're in a 20×20 exhibit space or larger, a colorful trade show design will stand out more than something that's just white or beige.  Don't seek to blend into the crowd.  Seek to stand out from the crowd of exhibitors on the trade show floor.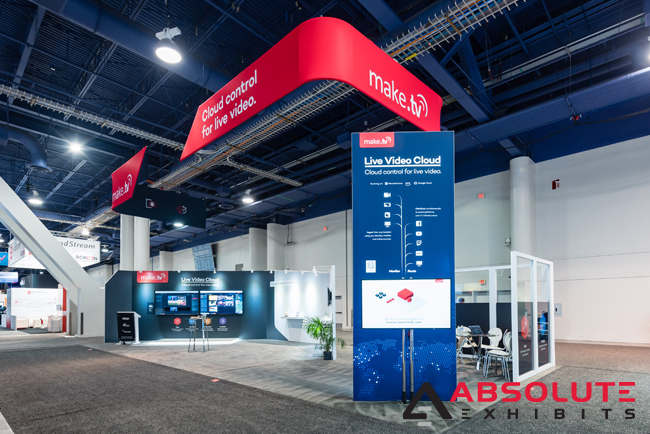 Creative Use of Lights in Your Trade Show Design
When you think of lighting in a trade show display, it's more than just the overhead lights.  While those can be custom designed to stand out, you can also use light in many more elements of your trade show booth.  Consider how you can also use backlit CNC cut logos, toe kick lighting beneath your display counters, backlit reception counters, or even in the inside of your hanging sign to add another interesting element to the sign itself.  Even if your budget isn't the same as your largest competitor, you can gain just as much interest with the right lighting in your trade show design.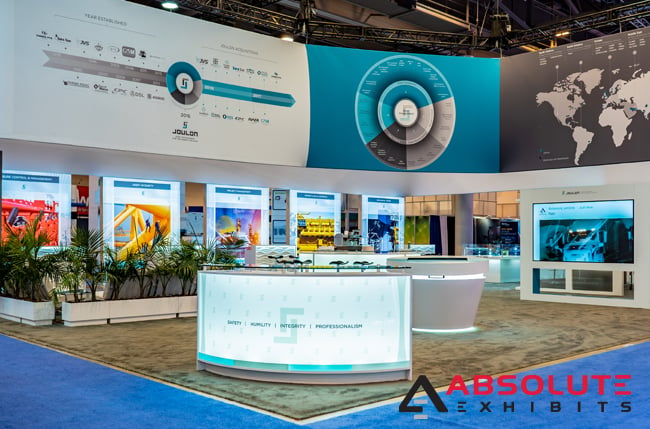 Using Motion in Your Trade Show Display
Motion is often the one area where people jump to the obvious of a rotating sign.  However, there are many other ways in which you can include motion in your trade show design.  Consider how a custom designed prop could spit out a picture in your trade show booth as people pass by?  This is certainly an attention grabber.  Another great idea is the use of digital displays.  LED walls can feature changing colors, textures, and messaging, further capturing people's attention on the show floor.  Motion can be integrated into many different aspects of your trade show design to ensure you get the attention you need on the trade show floor.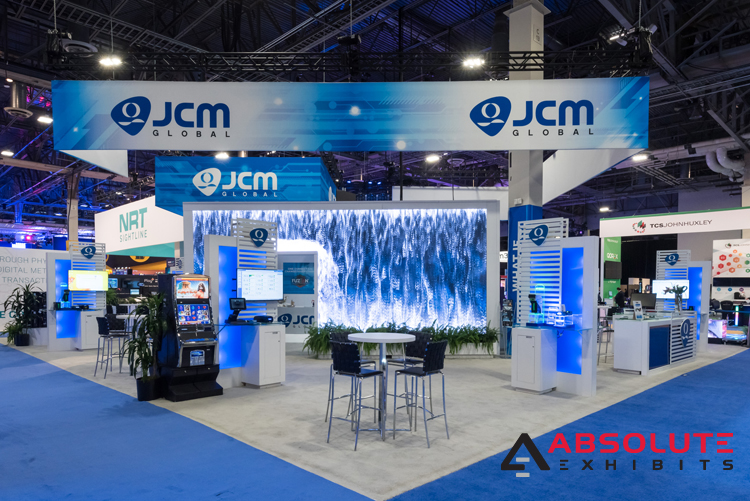 These are just a few ideas to get you thinking about how you'll show up on the trade show floor at your next show.  For more great ideas, consult your exhibit house partner who can guide you through the design process and make recommendations based on their experience and knowledge of emerging trends.