The 20×20 trade show booth is one of the most common sizes on trade show floors.  Not too small the exhibitor is considered new to exhibiting, and not too large to require a massive budgetary spend.  It also is easy to map out on sometimes complex floor plans, which allows for more exhibitors.  When you walk onto a trade show floor, some 20×20 trade show booth concepts look amazing and inspiring.  And some fall flat, easily skippable.  Try the following ideas to improve the look and action inside your booth space:
Maximize Your 20×20 Trade Show Booth Space By Building Up, Not Out
Every exhibitor is constrained by the space that they rent at a trade show.  While many marketers and event planners may want all the bells and whistles, the reality is they won't always fit.  That's why you should consider building up with a double-deck trade show display.  When you've got a 20×20 trade show booth space, you can easily add a second deck for semi-private meetings, freeing the space below for demonstrations, products on display, multimedia, and more.  Consider how this extra space could provide you the privacy necessary to close a deal at the show away from the action.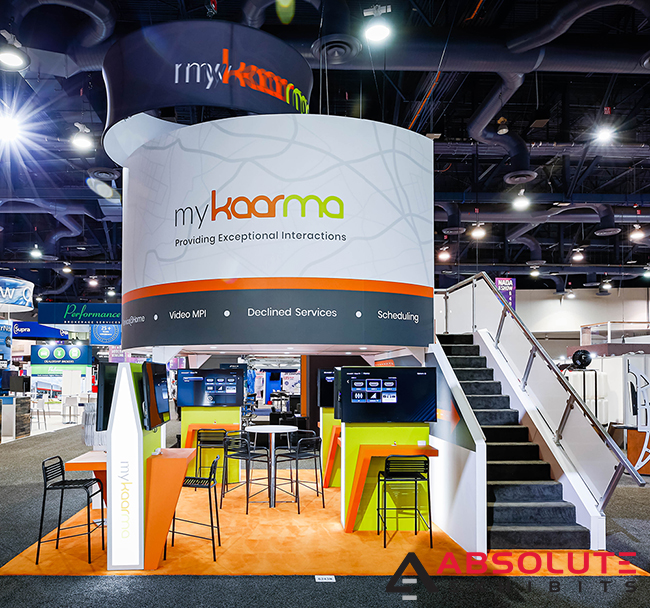 Manage the Flow of Traffic Through Your 20×20 Trade Show Booth
Some exhibitors are full of design ideas that just don't make much sense.  We've heard almost all of it from can we fit 21 demonstration stations in a 20×20 trade show booth space to let's surround it with reception counters every few feet.  These hinder the flow of traffic in and out of your booth space and can make people think twice before deciding whether to walk in and learn more about your products.  Instead, plan your 20×20 trade show booth carefully to encourage interaction and not crowd people out before they consider walking into your space.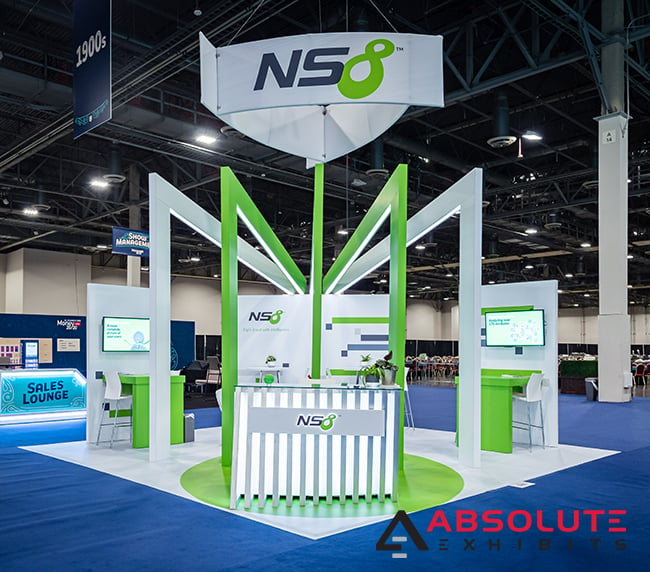 Ensure Your Branding is Visible from Multiple Angles
Often, a 20×20 trade show booth is an island, which means there are multiple vantage points.  You don't want to miss an opportunity to communicate with show attendees because you failed to tell your brand story in more than one direction.  Consider branding and messaging around your wall or meeting room.  You can also place key items such as reception counters or products in various places that connect to the story you're telling with your 20×20 trade show booth.  The idea is to come up with a cohesive feeling space that no matter what angle people arrive from, they'll understand who you are and what you do instantly.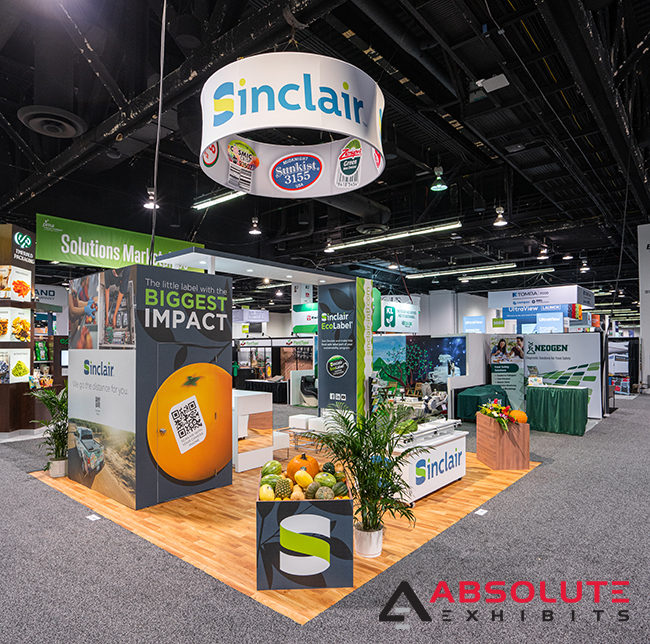 Drive More Traffic to Your 20×20 Trade Show Booth with Great Signage
Signage is incredibly important in exhibiting.  When people walk onto an exhibit hall floor, their line of sight often goes to the overhead signage.  Is the signage in your 20×20 trade show booth dull, drab, lifeless?  Or does it pop with color, make use of the inside of the signage, or even include lights and motion? You can support your overall goals at the show by taking some time to decide what kind of signage you'll use for your 20×20 trade show booth.  Will you embrace change or go with something tame?  Be bold in your choice if you're going to stand out in a 20×20 trade show booth space.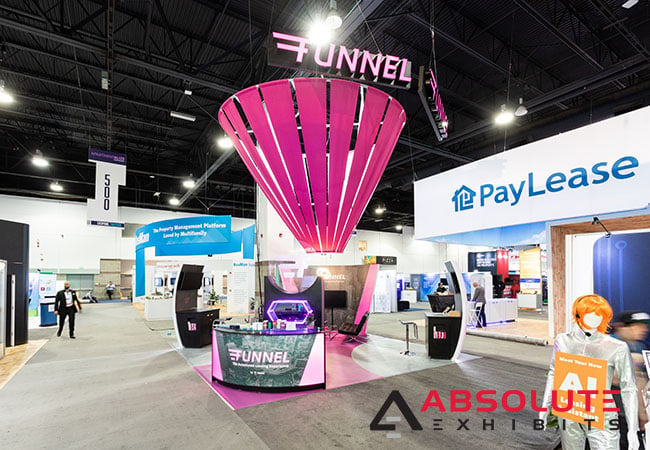 Plan How You'll Display Products or Services and Small Goods
At shows, exhibitors want to display their products and goods or demonstrate their services.  When you're in a space of this size, it can get tricky if you've got a lot of desired elements in mind.  To alleviate this problem, considering building some shelving stands and perhaps making use of cut outs in walls or bridges to display small products.  Place your products prominently near the light so they're well seen.  For demonstration stations, consider where you might hang technology to better speak to your audience in a 20×20 trade show booth. Will this technology grab them and encourage them to last longer or will it be an in and out experience of self-discovery?  Planning this out in advance can help your exhibit house partner with the best design for your goals.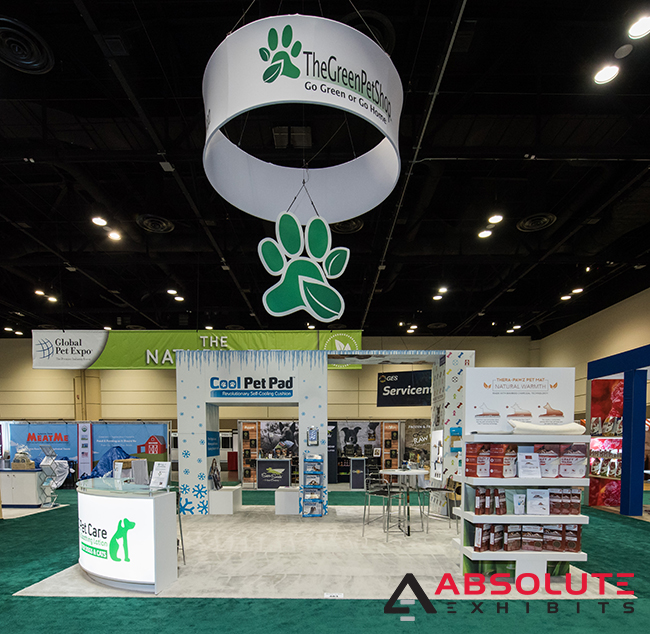 Give People a Place to Sit in Your 20×20 Trade Show Booth
The larger the show, the more show attendees have to walk.  And boy do they get tired.  If you've got seating available for them, they can and will sit down to take a load off.  This represents an opportunity for your team to approach them while more relaxed.  To keep people more relaxed, use a softer approach than you might normally when trying to get people to walk into your booth space.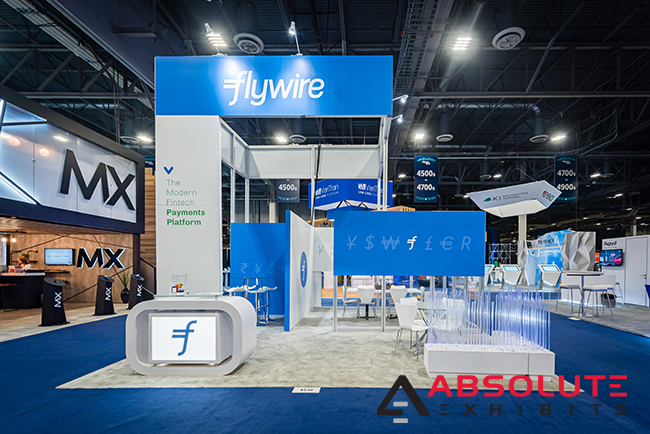 Don't Forget a Great Reception Counter for Your 20×20 Trade Show Booth
Reception counters come in all shapes and sizes.  But they don't all speak volumes about the business.  Are you technologically forward?  Will people be delighted by your glowing counter or will they fail to notice it as they walk in?  The key to a great reception counter is to use light, great branding and something to draw the eye to your 20×20 trade show booth.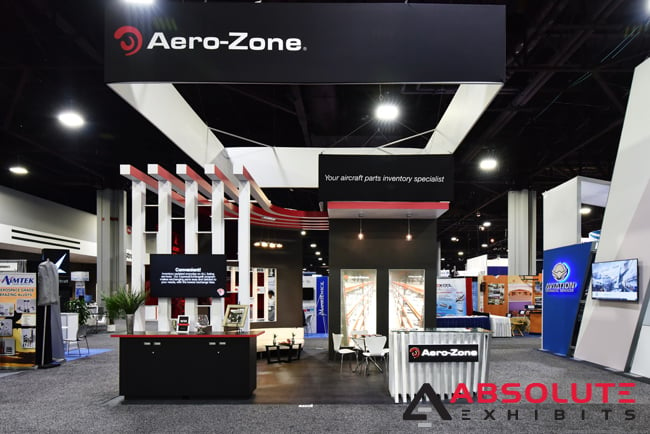 There are many great ways to improve upon your current trade show exhibit.  But if you're in a 20×20 trade show booth space, you may be limited by either space or budget.  Discuss your options with your exhibit house partner so you can include the most important elements to your business and increase your functionality on the trade show floor.