Many businesses have sought to reopen across the globe, getting back to life pre-pandemic.  However, this has necessitated a variety of workplace social distancing solutions to enforce healthy behaviors.  Whether that workplace is an office space, a salon, a restaurant, or a shopping center, there are a variety of workplace social distancing solutions available.  Consider the following:
Sneeze Guards as Workplace Social Distancing Solutions
Sneeze guards aren't just for the salad bar anymore.  In fact, they are popping up all over.  You can find these workplace social distancing solutions around reception counters, extensions to existing cubicles, and surrounding cashiers or pharmacies.  Sneeze guards can be permanently installed into a desk or they can be temporarily set up to allow for flexibility.  Recovering from the pandemic is temporary, but you may decide you'd like to keep these in place for other reasons.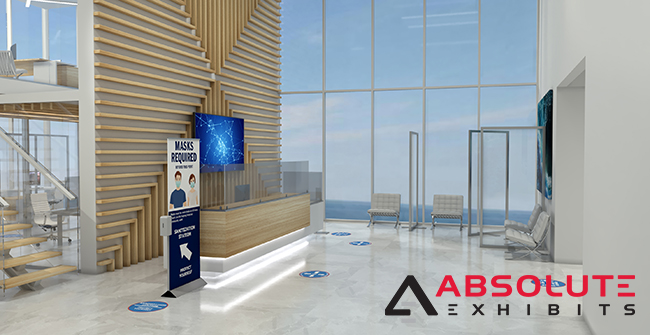 Aesthetically, custom sneeze guards can be made in a variety of CNC cut shapes, include different colors or even logos as handsome workplace social distancing solutions.  They can be made a part of a restaurant's waiting area or incorporated into more stylish cubicles.  Textures, gradients, colors, and cuts can all transform them from something plain Jane into something stylish.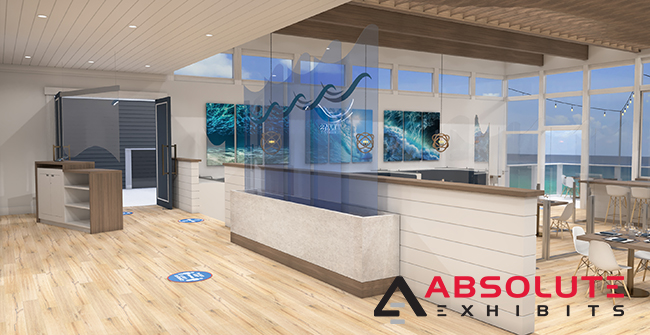 Temporary Screen Dividers as Workplace Social Distancing Solutions
In many businesses such as nail salons, the ability to stagger groups in fixed chairs isn't entirely a possibility.  In these cases, portable temporary screen dividers are great workplace social distancing solutions.  These can be made of plexiglass or PVC and can include logos and graphics on them to enhance brand recognition if so desired. When the threat is no longer omnipresent, these can be stored for use in other situations such as for private parties or for cold and flu season.  These are the kinds of workplace social distancing solutions that are highly versatile and can work as easily in an office break room as they can inside a café or a salon.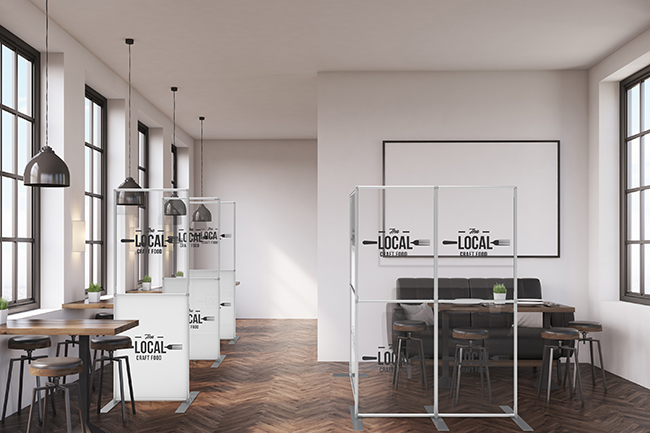 Custom Office or Cubicle Build-Outs
Inside many office spaces, businesses embraced the open floor plan concept.  Many did away with the traditional office spaces of the past in favor of long rows of desks and people seated next to one another.  In a post-pandemic recovery period, these aren't conducive to ensuring the health and safety of employees.  Instead, custom office or cubicle build-outs can be effective workplace social distancing solutions.  You don't need to call a contractor in.  It can be a simple workplace refresh where you erect temporary structures. This can encourage a feeling of safety among employees and put some distance between one another.  It can also encourage a more productive work environment.  These can be rented or purchased and made to your business' specifications.  These can be CNC cut to different shapes, texturized, include colored or specialty cut glass, and more.  If they no longer are necessary, they can be returned, and your office can be reconfigured to the old open floor plan again.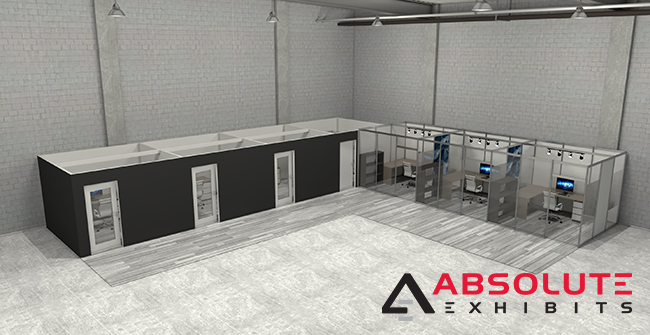 Experience Centers or Showrooms as Workplace Social Distancing Solutions
When you can't bring your products and services to a trade show, you can invite prospects to view your experience center at your office.  This can help your prospects to gain a hands-on sense of the product while maintaining proper social distancing.  Spaces such as corners of lobbies or even conference rooms can be converted for these sophisticated workplace social distancing solutions.  These can include A/V solutions, platforms and stages, custom monitors, and more.  Depending on your product and the experience you want to provide, these can be both economical and stylish.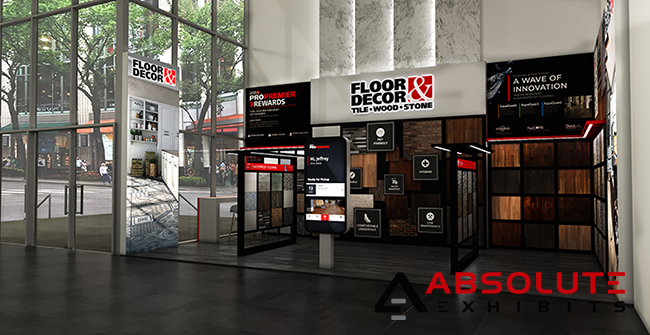 Health and Safety Signage
Some of the most important workplace social distancing solutions are the health and safety signage you include in your environment.  Whether a store, a salon, restaurant, office, or manufacturing facility, people will need to know the behaviors expected of them while on site.  This can include custom printed signage to hang on the walls, floor decals, banner stands with sanitizing attachments, and more.  You can scale your workplace social distancing solutions up or down as necessary in order to reinforce healthy habits on site.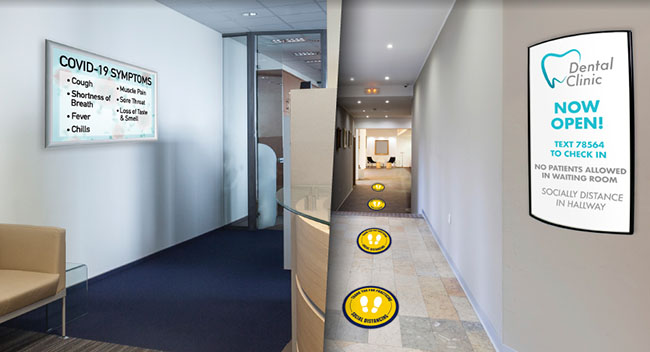 Custom Printed Corporate Face Coverings as Workplace Social Distancing Solutions
Many states have mandatory mask orders in place for public interactions such as entering a store, salon, healthcare facility, and more.  Many office buildings require the same when employees are not inside their own offices.  Instead of relying upon employees to find something that is suitable, provide them with custom corporate face coverings featuring your branding and even personalization.  Multiply face coverings also include space for ventilators and can be far more effective than thin disposable nonsurgical face masks.  They start at a low price point and drop lower the more you order in bulk.  Many businesses are providing these as workplace social distancing solutions in order to reinforce healthy habits on site.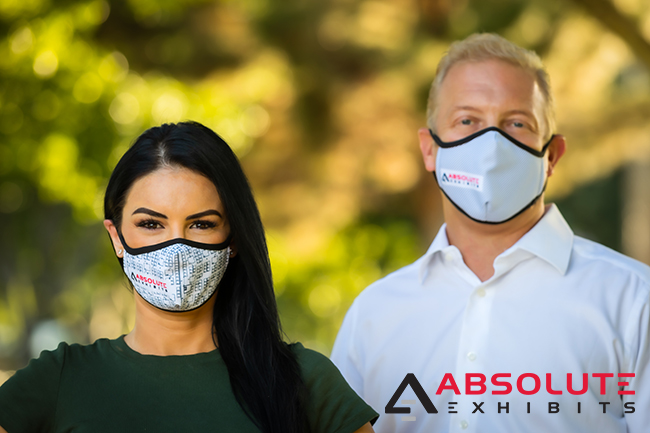 There are a variety of workplace social distancing solutions that you might not have thought of.  However, you can trust the team that can build a small city inside a convention center in a matter of days to design and fabricate something special for your unique workplace.  Contact us today to get the process started.