SHOW: International Baking Industry Exposition (IBIE)
LOCATION: Las Vegas Convention Center (Las Vegas, Nevada)
CLIENT: Bundy Baking Solutions
INDUSTRY: Food
ACCOUNT EXECUTIVE: Tauny Thompson
The International Baking Industry Expo is the largest trade show in the baking industry.  Held every 3 years in Las Vegas, NV, this show draws over 25,000 attendees to sharpen their skills and discover new innovations.  The trade show hall hosts a variety of different baking manufacturers and suppliers showing off ingredients and technologies to propel the baking industry forward.
Concept and Design:
In order to stand out at a show with machines in every single trade show booth, it's important to make a statement.  Bundy Baking Solutions (Bundy) had a 6,300 sq. ft. trade show space in a 70×90 trade show booth.  With that kind of square footage, Bundy wanted to make a big splash.  This included introducing a brand-new company and showing off their machinery while still having ample meeting space.  The feeling of their space had to be open, creative and knowledgeable. They wanted all of this without post-show billing and on budget.
Challenge:
Bundy wanted to clearly position their new baking release agent company and mixer company as innovative leaders in the space.  This created a challenge of how to catch attention, place machinery within the space and still offer an impressive structure to meet their needs within budget.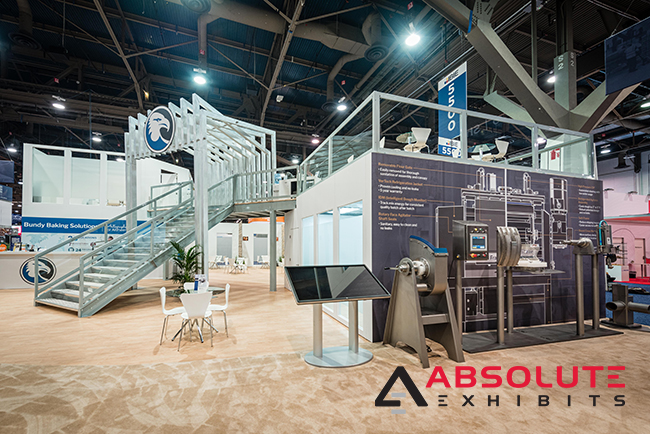 Solution:
Absolute Exhibits produced a modern double-deck interactive trade show exhibit that made a bold statement on the trade show floor.  A focal point of the exhibit was a gate that was constructed of LED walls, projecting video of welcoming messages surrounded by oil.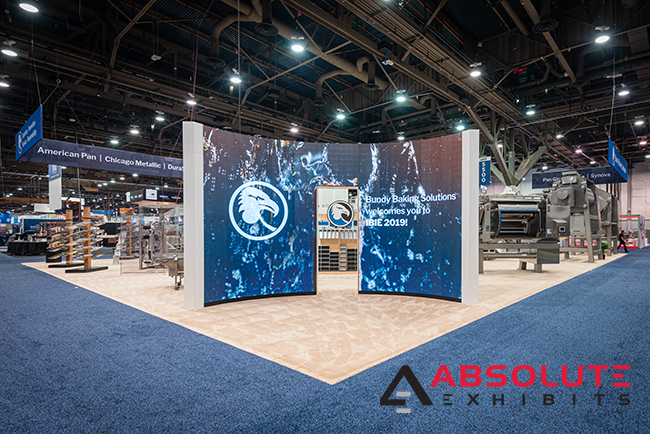 Surrounded by machinery, Bundy's brand was front and center in a massive double-deck trade show exhibit.  It featured two meeting rooms above the trade show floor.  These 18'x18′ meeting rooms provided ample space to discuss business.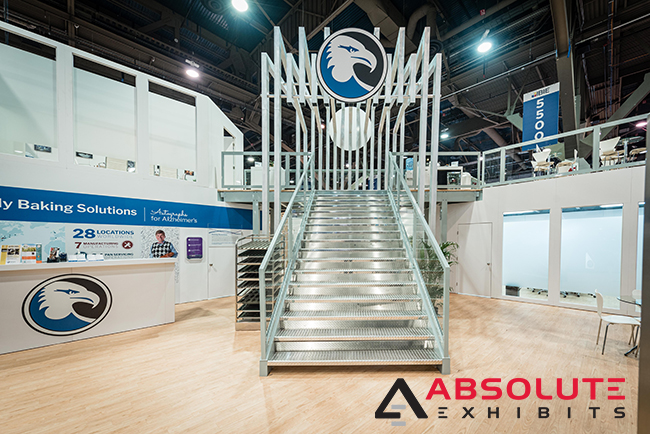 A semi-private lounge was also present on the first floor to facilitate conversation and relaxation.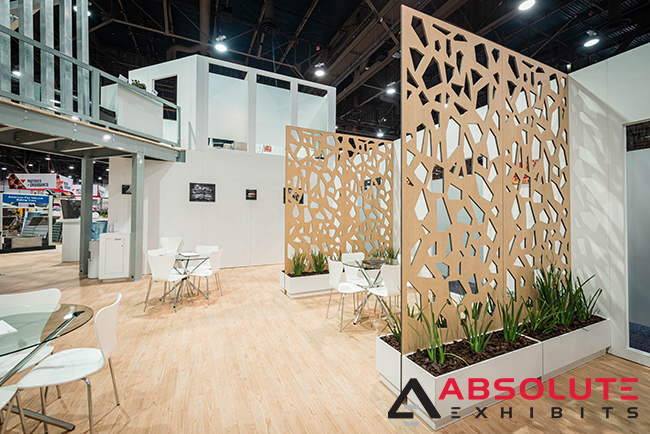 Wall space for large format graphics also allowed for a special innovation display to capture people's attention.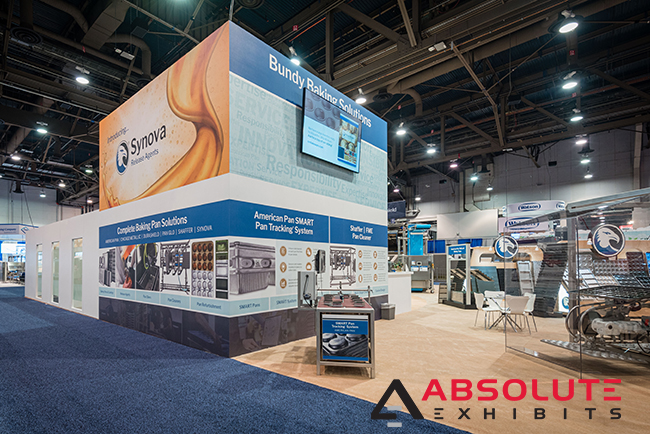 Their signage above was double-sided, bold and angular.  The L shape caught people's eyes because it was different and expanded along the outer edge of their booth space.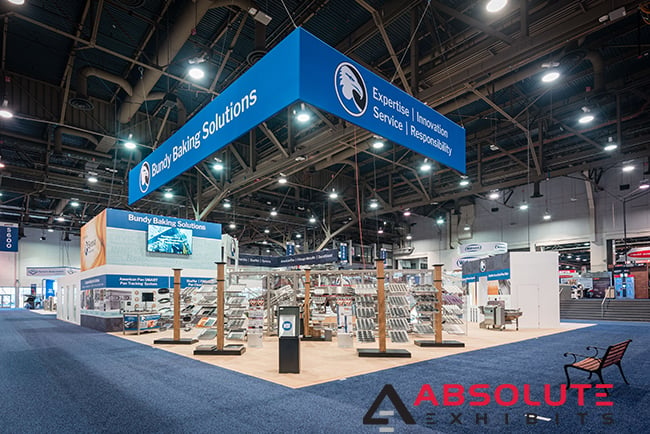 More opportunities for branding offered 3D CNC cut logos on the trade show floor alongside their machines.  Each detail was selected to make a major impact on the show floor.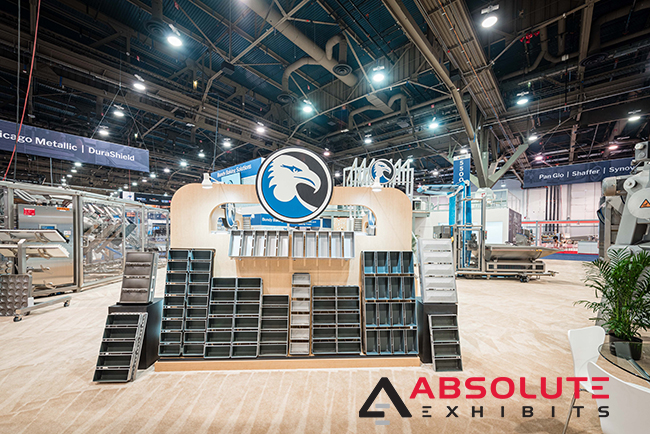 "This exhibit was a labor of love.  In the spirit of collaboration, we took their goals and ran with them to produce something that looked like an architectural marvel while still presenting their machinery in an elevated way, "said Senior Account Executive Tauny Thompson.
Results:
Absolute Exhibits built a custom designed trade show exhibit that towered above the rest of the exhibits on the trade show floor.  Their modern architectural marvel was the talk of the trade show, attracting people from across the trade show hall to get a peek.  Bundy had a very full trade show booth to show off their innovative products.  They received more requests about upgrades and special features than they had in the past.  The meeting spaces and lounge easily accommodated their customers, prospects and staff, providing plenty of space to do business and to relax.
"We were extremely pleased with how our trade show exhibit turned out.  Not only was Absolute Exhibit's design the most creative, it met all of our goals and stayed within budget.  I'm looking forward to our next show because I can depend on Absolute Exhibits to deliver superior results without post-show billing," said Vice President of Marketing Wendi Ebbing.