SHOW: Money 20/20
LOCATION: Venetian Hotel Convention Center, Las Vegas, NV
CLIENT: Devbridge Group
INDUSTRY: Fintech, Financial
ACCOUNT EXECUTIVE: Christina Moore
Money 20/20 is the premier payments, fintech, and financial services show, bringing together industry leaders to literally reshape how transactions are made.  They aim to create a simpler, fairer, faster, and more inclusive financial system for individuals and businesses.  Their exhibition brings together leaders in fintech, lending, payments, credit, and more over a period of 3 days.  Thousands of C-suite executives attend this show seeking the next great idea or partnership.
At Money 20/20 this year, Devbridge Group partnered with Absolute Exhibits to produce a 400 sq. ft. trade show exhibit that made a bold statement on the trade show floor, emphasizing the theme of speed.
CONCEPT AND DESIGN:
Devbridge Group is a software design, development, and consultancy company that partners with Fortune 500 companies to accelerate custom software products to market. Their unique value proposition is that working out of offices in 5 different countries, they can develop custom software 4 times faster than their competitors.
CHALLENGE:
Absolute Exhibits was challenged to create a trade show exhibit at Money 20/20 that emphasized speed.  Because Devbridge Group prides themselves on the speed of their custom software development, they wanted a design that incorporated the idea of speed to drive that concept home.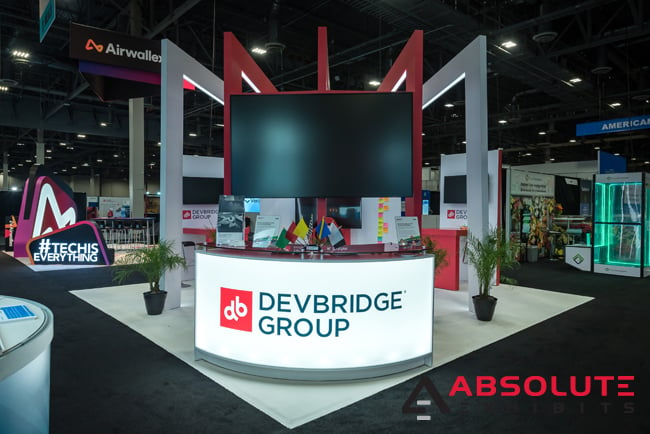 SOLUTION:
Absolute Exhibits built a customized trade show exhibit with speed as a central theme. From the sleek arches overhead with backlit accent lighting to the sleek backlit reception counter, visitors got an initial taste of the theme of speed.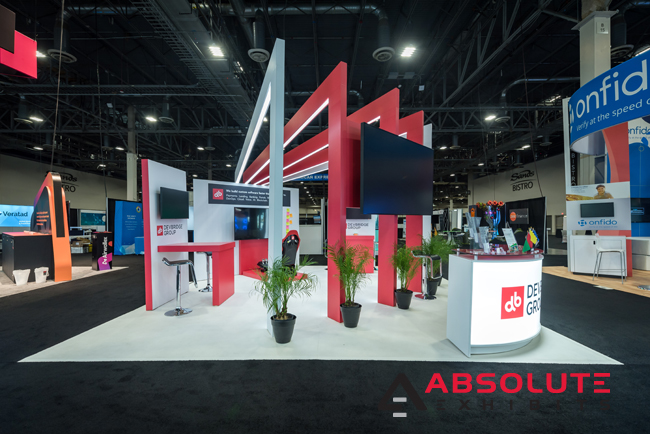 Devbridge wanted to show how fast they can build and transform companies' software to speed up production.  To show this, Absolute Exhibits constructed a racing simulator in the center of their trade show exhibit.  This allowed visitors the ability to play a game and experience the speed for themselves.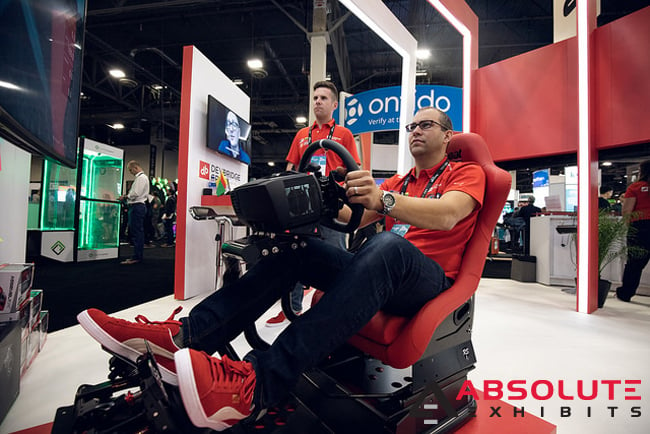 Adjacent to the simulator were 2 demonstration stations which allowed Devbridge Group representatives to showcase their product while people waited to race.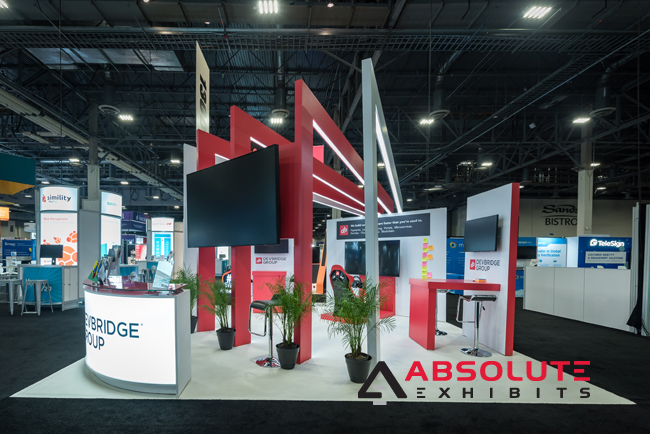 "Working on Devbridge Group's trade show exhibit was truly a labor of love.  From initial concept to finished product, our team was so proud that we accomplished their goals with such a beautiful exhibit," said Christina Moore, Account Executive.
RESULTS:
Devbridge Group was a tremendous hit on the trade show floor.  Once word was out about the racing simulator, people flocked from across the exhibit hall to see Devbridge Group's trade show exhibit and experience speed for themselves.
"We were trying to convey the way our services increase speed for our clients, and Absolute really brought this to the exhibit with the design using angles and lighting," said Steve Brown, Marketing Specialist.