SHOW: Consumer Electronics Show (CES)
LOCATION: Las Vegas Convention Center (Las Vegas, Nevada)
CLIENT: Kodak Instant Print Category
INDUSTRY: Technology
ACCOUNT EXECUTIVE: Kyle Moeller
The Consumer Electronics Show (CES) is one of the most important trade shows in the technology sector.  For over 50 years, CES has been the premier destination to unveil new technology and mingle with business leaders and pioneering thinkers.  2019 saw record attendance with over 185,000 attendees and over 4,500 exhibitors spread across the Las Vegas Convention Center and Sands Exhibit Hall.
Every year, technology companies feature the latest and greatest in their trade show exhibit, vying for the attention of consumers and industry professionals alike. This year was no different with crowds walking miles every day just to view and interact with leading technology.
Concept and Design:
CES is the place to make a big statement with technology and Kodak wanted to stand out on the trade show floor in a 110×60 space.  The trade show exhibit had to be welcoming to both consumers and industry professionals with an emphasis on interactivity.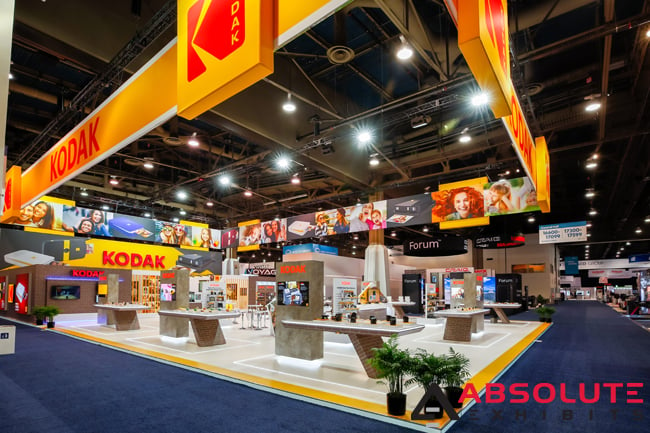 Challenge:
Kodak wanted a trade show exhibit that highlighted their instant print images and allowed for lots of interaction with their products.  With a history of innovation, Kodak wanted a trade show exhibit that would become a focal point of the trade show floor.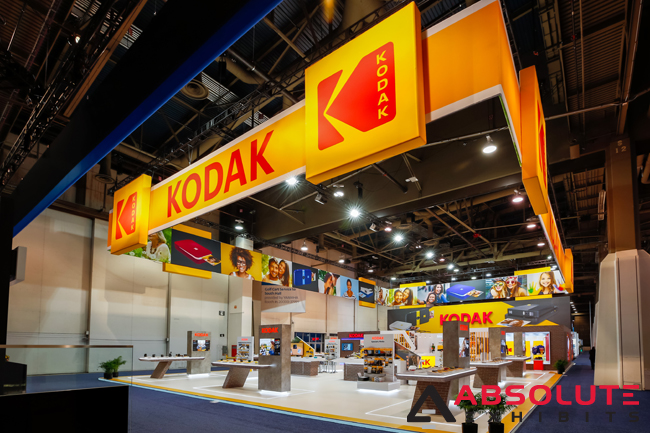 Solution:
Absolute Exhibits produced a modern interactive trade show exhibit that made a bold statement on the trade show floor.  The double-sided hanging sign featured 2 10' x10' SEG fabric light boxes on each side announcing the Kodak brand boldly.  This was replicated on the exterior walls and a 20' wall in the back as well.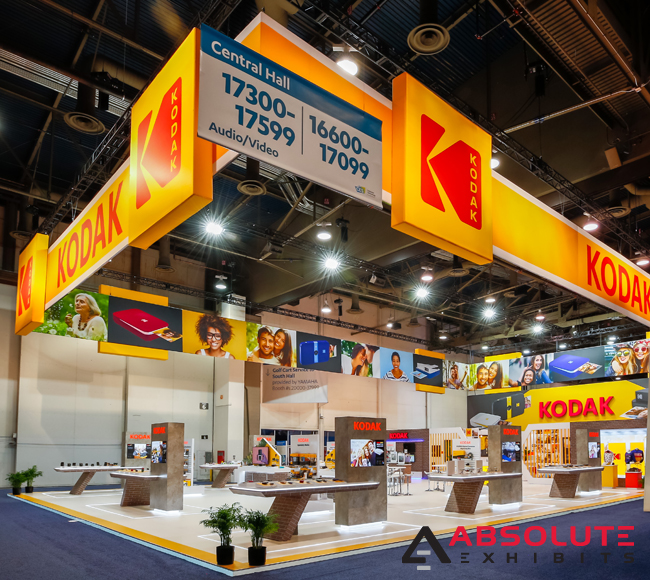 The trade show exhibit also featured edge lit raised flooring with slat wall kiosk stations wrapped in brick wallpaper and CNC cut backlit logos to show off their products on screen.  Additionally, 8 product demonstration tables with recessed lighting allowed consumers to pick up and examine Kodak's instant print cameras.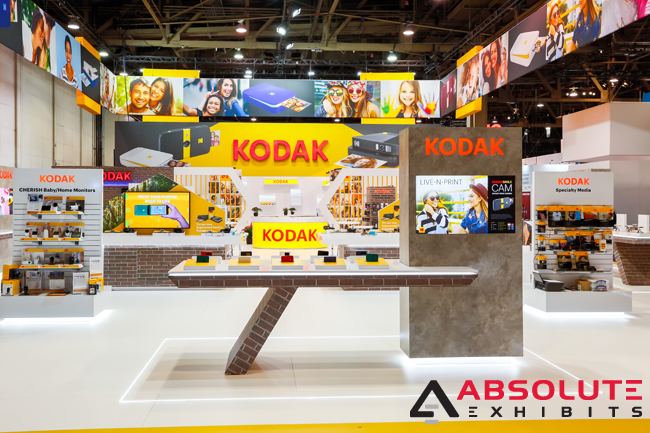 A focal point of the trade show exhibit was the backlight 3D logo with a SEG fabric backlit reception counter.  Additionally, the trade show exhibit featured a lounge with a full bar and seating.  An adjacent semi- private meeting room also allowed for deeper discussions during the show.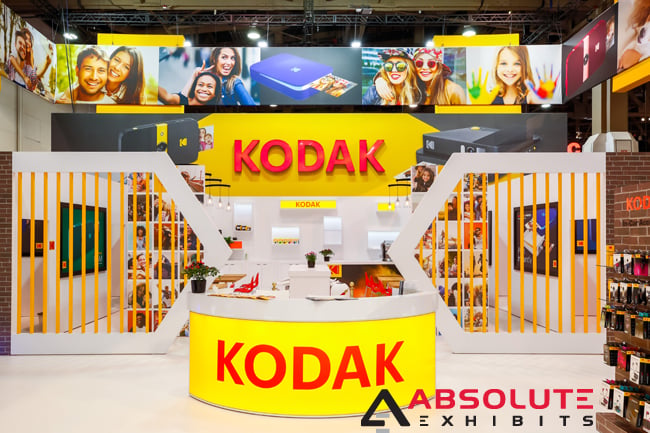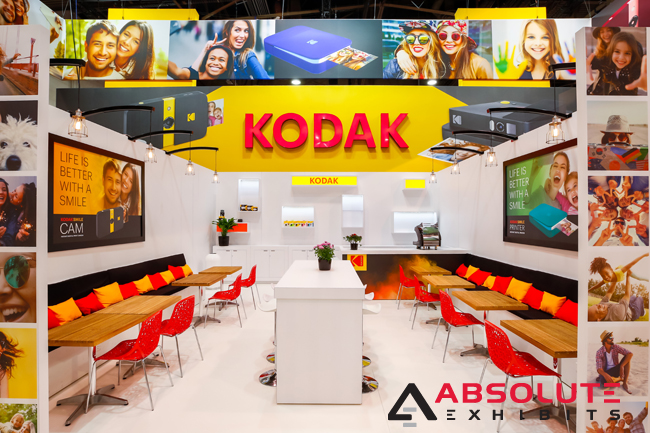 "This trade show exhibit is truly the work of collaboration.  We couldn't have produced something so bold and entertaining without deep insight into our client's needs and their trust in our ability to deliver their vision," said Account Executive Kyle Moeller.
Results:
Absolute Exhibits built a custom designed trade show exhibit that was mentioned in the press as one of the must-see exhibits at CES.  Consumers loved the exhibit and our client's exhibit was always packed.

"Our goal at CES was to create an atmosphere that welcomed industry professionals and consumers. We wanted an environment conducive to hanging around, playing with product and engaging in conversation. Absolute Exhibits delivered this and we're very pleased," said Senior Director of Trade Shows and Events, Michelle Winfrey.