SHOW: CONEXPO-CON/AGG
LOCATION: Las Vegas Convention Center (Las Vegas, Nevada)
CLIENT: Brennan Industries
INDUSTRY: Construction
ACCOUNT EXECUTIVE: Kyle Moeller
CONEXPO-CON/AGG is one of the world's largest construction trade shows.  Held every 3 years in Las Vegas, NV, this massive event features the latest equipment and technology in construction and agriculture.  Over 300,000 people attended in March of 2020 to learn more about construction and agriculture innovations.
Trade Show Exhibit Concept and Design:
Every 3 years, Brennan Industries (Brennan) changes trade show booth sizes and creative designs, hoping to stand out on the show floor. They are not a fan of simply exhibiting their fittings in cases in the front of their trade show exhibit.  Instead, Brennan wanted to focus on making connections. They wanted to use their 30×30 trade show booth to host clients and prospects with a bar in a fun and inviting environment. This environment would include a lounge area and a video component to explain who they are and what they produce.
Challenge:
Brennan wanted to stand out from the crowd, make a big visual impact, and focus on personal connections over simply displaying products. They wanted to diverge from the majority of exhibitors and devote maximum trade show exhibit space to welcoming, entertaining, and making a great impression. They hoped to create a space people would really linger in.
Brennan was also a little nervous. They were making a change from their former exhibit house and there was a lot on the line. Would their new partner Absolute Exhibits really be able to bring the creativity and deliver the results they demanded?
Solution:
Absolute Exhibits produced a modern, unique, and highly creative trade show exhibit that incorporated not only a large comfortable lounge, bar and video wall, but a unique central structure that unmistakably represented Brennan's fittings, even from a distance.  The design was high end, providing the image they wanted to project and the opportunity to connect and gather leads.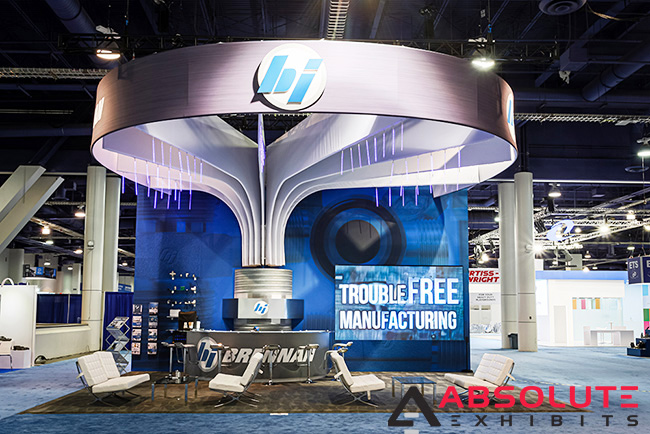 The central structure represented a hydraulic fitting, one of Brennan's core products.  This was accessorized with LED lighting, hung down to illuminate the space.  Brennan used the wide circular countertop to serve coffee, food, and host a daily open bar. It was topped with thick transparent acrylic, making the bar a lighted product display.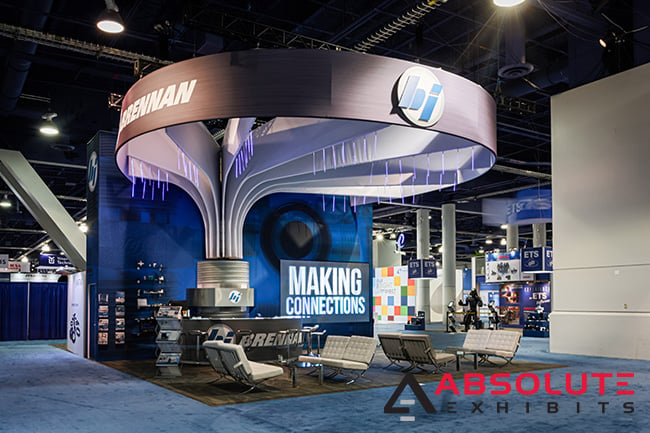 A video wall told their story in living color. The bright animated display brought eye-catching excitement to the space.  A lounge offered comfortable seating for show attendees to gather and have deeper conversations with the Brennan team.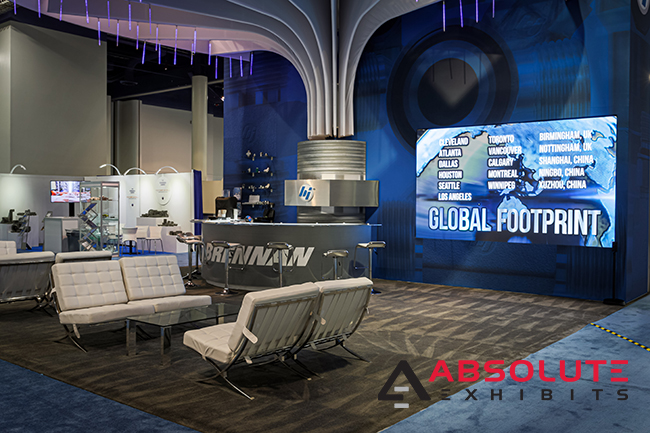 "When you have an opportunity to tell a brand story visually, you take it.  Brennan gave us the freedom to think outside of the box with their trade show exhibit and we really ran with it.  With some collaboration on minor design changes, we were able to hit a home run for them," said Kyle Moeller, Senior Account Executive.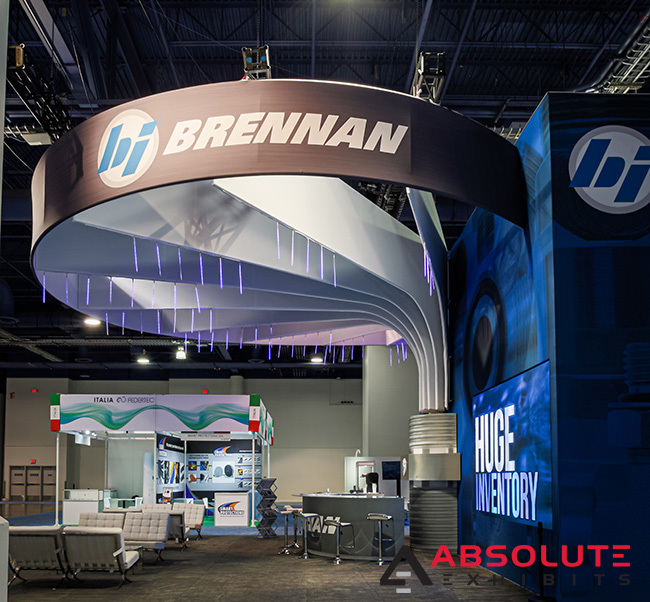 Results:
Absolute Exhibits built a custom-designed trade show exhibit that told a creative and cutting-edge brand story and enabled Brennan to truly make connections with show attendees.  Brennan's booth was packed the entire time and attendees said it was the most striking exhibit at the entire trade show.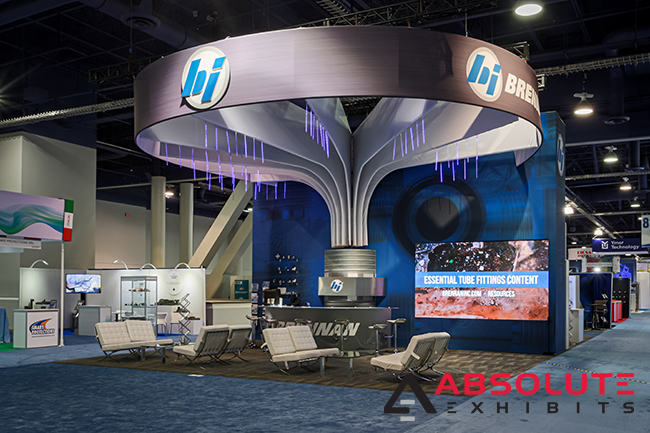 Despite lower attendance at the show than usual due to Covid-19 concerns, Brennan had a marked increase in leads obtained as a result of their trade show exhibit.  Attendee pull outs in front of them on the show floor allowed for an unencumbered view of their trade show exhibit.
Said John Joyce, Vice President of Marketing, "Absolute Exhibits was creative, professional, and helped bring our concepts into existence with excellence.  They are our go-to provider in the future."