SHOW: The Offshore Technology Conference (OTC)
LOCATION: NRG Park, Houston, TX
CLIENT: Joulon
INDUSTRY: Oil and Gas, Technology
ACCOUNT EXECUTIVE: Christina Moore
For over 50 years, the Offshore Technology Conference (OTC) has been the preeminent place to exchange information, science, and technology to advance the oil and gas industry.  This massive show attracts over 100,000 attendees representing over 100 countries across the globe.  2,000 of those attendees exhibit their goods and services.
Joulon was among these exhibitors, displaying their comprehensive asset management for the oil and gas industry.  They sought to educate trade show attendees about their capabilities in optimizing life their life cycle costs, and improve the reliability of their assets.
Concept and Design:
OTC is the most important oil and gas industry show in the United States.  With over 2,000 exhibitors, it's important that trade show exhibitors ensure their trade show exhibit stands out among their competition.
Challenge:
To make a big splash and introduce their asset management for the energy industry, Joulon wanted to make a large statement.  This included booking a 50'x60' booth to feature a technologically forward trade show exhibit.  They wanted to tell their brand story and to encourage people to linger in their trade show exhibit to learn more about how they can save time, money, and increase safety.
Having experienced problems with other exhibit houses in the past, they wanted to ensure they worked with an exhibit house that could produce a trade show exhibit of which they could be proud.
Said Account Executive Christina Moore, "We knew the expectations were large because they'd previously had problems with other exhibit houses and show contractors.  We wanted to make sure their vision not only came to life, but stood out as larger than life.  It was a great experience working with the team to produce something amazing!"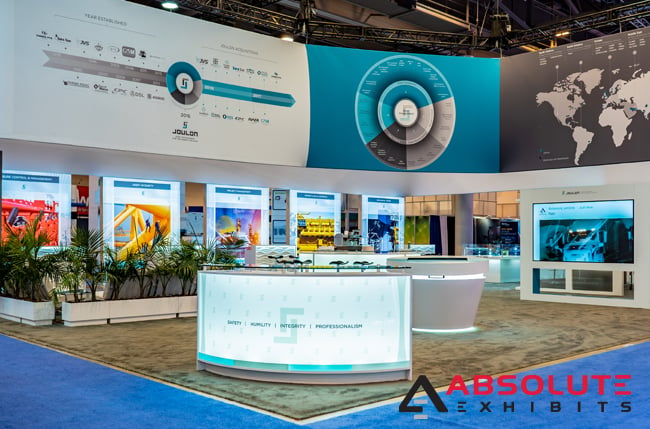 Solution:
Absolute Exhibits produced a modern interactive trade show exhibit that stood out as an attractive trade show exhibit on the exhibit hall floor.  From the colors to the large 10-foot 360 degree sign to graphics, greenery, interactive elements and demonstration stations, Joulon stood out as a giant on the trade show floor.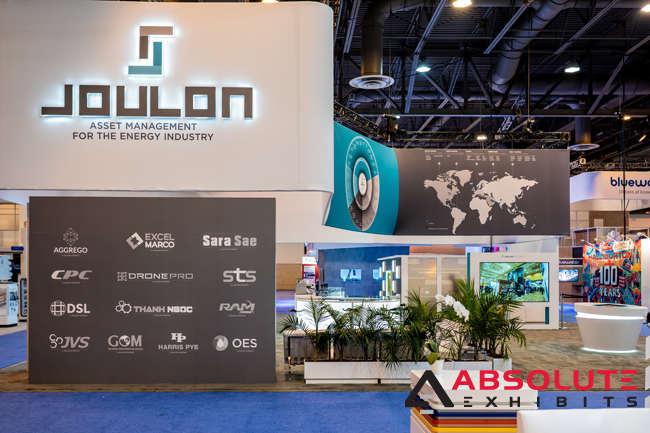 Joulon's exhibit featured multiple visually interesting elements from 3d halo lit logos to a living wall of foliage including 3D logos and LED lighting.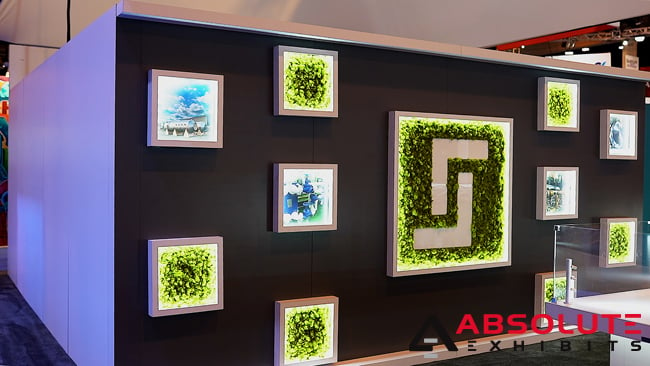 Inside the trade show exhibit, Joulon had interactive touch kiosks, demonstration display stations, and double-sided fabric light boxes to illuminate their trade show exhibit graphics. This created a brand story (including digital storytelling) that trade show attendees could follow along to immerse themselves in the brand experience.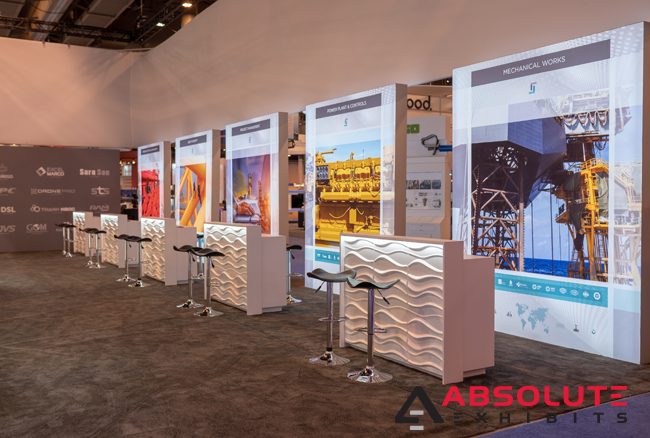 Results:
Absolute Exhibits built a custom designed trade show exhibit that was extremely popular at OTC.  Thousands of visitors flocked to the trade show booth to see what Joulon had to offer in comparison to competitors.  They had a very successful appearance that defined themselves as industry leaders.
"On behalf of Joulon… I would hereby like to give our sincere thanks for your hard work and persistence in making our OTC 2019 experience a trouble free & memorable one. As mentioned from the get-go your pitch was spot-on, you listened to the specifications and requirement of our trade show exhibit attentively and executed the design beautifully. We loved the innovative 'moss' concept and you even managed to provide everything we wanted and stay within budget. We look forward to working with Absolute Exhibits next year! Thank you again guys, you did a fantastic job and it made our Senior Executives and Investors very proud!," said Christo Biggs, Office and Admin Manager.