SHOW: bauma
LOCATION: Messe Munchen, Munich, Germany
CLIENT: McLanahan Corporation
INDUSTRY: Construction Industry
ACCOUNT EXECUTIVE: Tauny Thompson
bauma is the world's largest construction equipment and engineering trade show in the world, drawing over 3,700 exhibitors across 614,000 sq. meters of exhibition space.  Over 620,000 visitors attend this show every 3 years from over 200 countries, eager to learn the construction equipment and engineering technologies which will redefine the industry for the next 3 years.
Concept and Design:
bauma is a very important show for McLanahan.  Having previously attended, the team wanted to reestablish their brand in Europe with the message that they've got the longevity, the experience, and the leading technology.
In order to present their brand messaging, McLanahan wanted a double-deck trade show exhibit that reinforced the messaging that their company has existed since 1835.  It was important to them to both show off their machinery as a large visual element, but to also have a wall to separate them from the neighbors, allowing for more intimate interactions with their machinery and team members.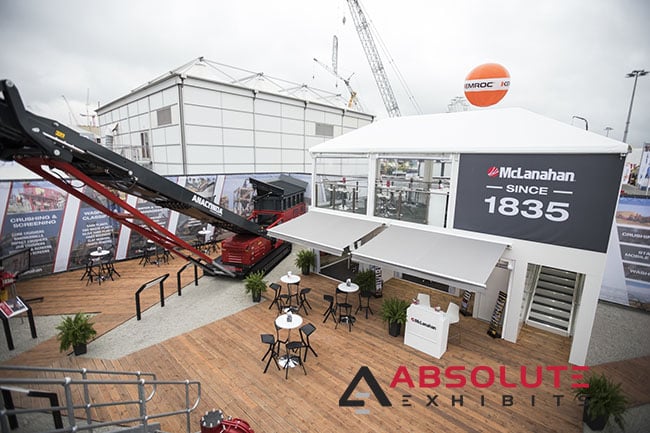 Challenge:
McLanahan wanted to make a big splash at bauma but found they were challenged with showcasing their equipment and marrying this with meeting capabilities, videos, attractions, and visitors.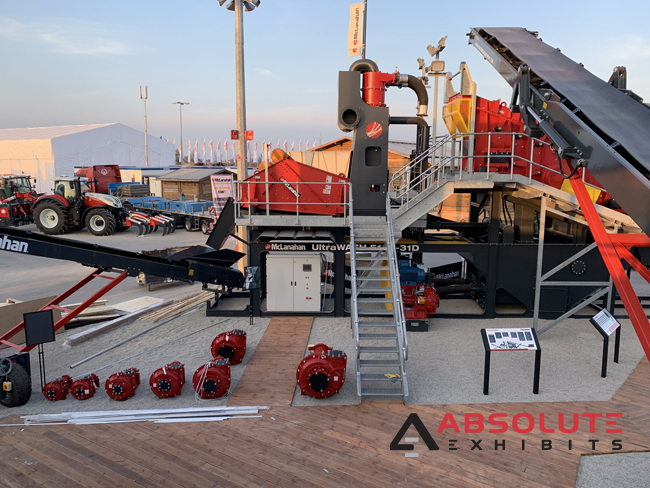 Because bauma was a European show, the McLanahan team found the processes, guidelines, and linguistic differences to be a further challenge.  They found they were both excited but overwhelmed at first.
It was important to McLanahan to have a partner that truly understood the brand.  This partner also needed to understand that the European market was both important and valuable to them.  McLanahan didn't want to lose contact with their Account Executive or get passed off so they could still interact with their chosen exhibit house in their own time zone.  This is a large part of why they chose to work with Absolute Exhibits in Germany.
Said Account Executive Tauny Thompson, "We were excited for the opportunity to show our U.S. client that we could take them overseas and that they could exhibit without fear their branding would be inconsistent.  As a result, we designed a stand-out trade show exhibit that drew thousands of visitors to McLanahan.  We were very proud to work with them on this exceptional design and provide a seamless exhibition experience for them in Germany."
Solution:
Absolute Exhibits produced a modern and fresh double-deck exhibit that met all of their criteria- meeting spaces, marketing opportunities, and showcasing their machinery in a semi-private space.
A wall was constructed with a massive video monitor displaying McLanahan's marketing video across the exhibition space.  Graphics supporting this messaging were applied to the wall to lead visitors on a journey through their capabilities and product line.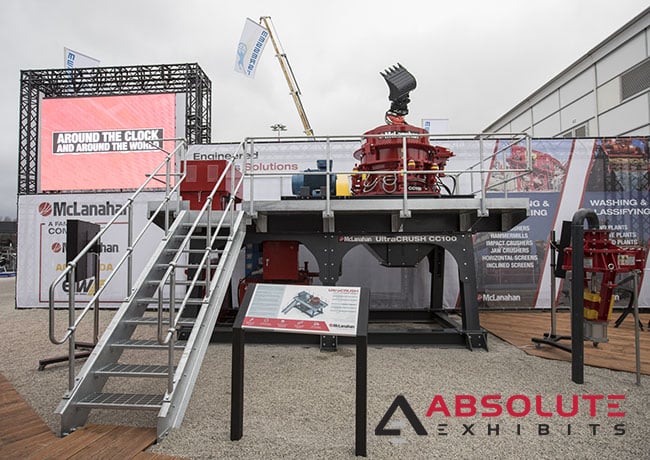 Inside the semi- private space, the trade show exhibit featured machinery as a large focal point.  Their variety of machines were visible across the entire outside exhibition space.  For intimate meetings and to have product discussions, a double-deck trade show exhibit featured a glass encased meeting room and lounge area with plenty of tables and seating below.  There was ample space to have multiple discussions with visitors.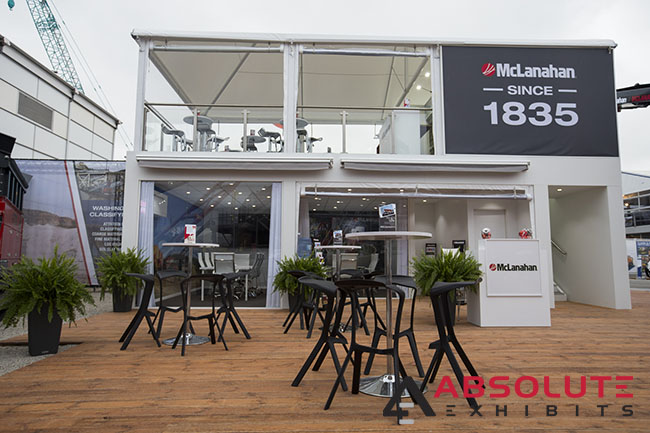 Adding to the modern and comfortable space, Absolute Exhibits further laid down outdoor wooden floor tiles that provided a pathway leading visitors from the machinery to the meeting spaces.
Results:
Absolute Exhibits built a custom designed trade show exhibit that drew thousands of visitors to the trade show exhibit.  Because of Absolute Exhibits' European presence, a team of Project Managers, Account Executives, and Installation and Dismantling were on the ground.  This team handled all forms, translations, and compliance with European trade show exhibit guidelines. McLanahan's team was surrounded by the same support that they would normally have at home in the U.S.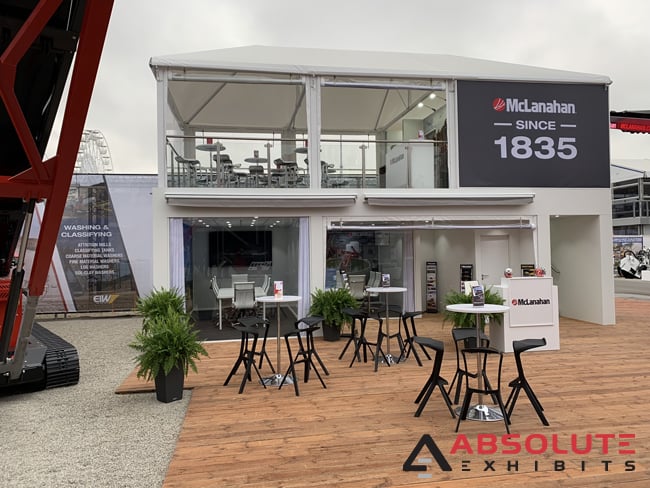 "Having previously worked with Absolute Exhibits at U.S. shows, we had a much higher level of comfort knowing that they knew our brand and our people. That, paired with their European team on the ground that knew the venue, show organizers and local languages, really made exhibiting at bauma easy for us. Absolute Exhibits understood our desire to increase brand awareness globally, while also introducing new equipment. However, the thing that keeps us coming back to Absolute Exhibits is that they are really a 'yes' company focused on finding solutions for us and meeting our service expectations from start to finish with each show," said Andrea Ritchey, Director- Marketing and Communications.