When it comes to designing your trade show display, one area of importance is lighting.  Light is one of the most important elements of any display because the trade show floor is often dark.  Every exhibitor has some sort of lighting in their trade show display or they sit partially obscured in shadow.  Of course, if you want to be noticed on the trade show floor, you have to include light.
One of the most popular lighting options is the use of LED light.  LED light is so popular because it uses less energy and lasts much longer than traditional candescent or fluorescent lighting.  Available in many different colors and sizing options, it has not only been incredibly popular in people's homes but also on the trade show floor.  Not yet sure how to use LED lighting in your trade show display?  Read through these tips for how you can include LED lighting in different ways:
Accentuate a Special Design Element of Your Trade Show Display
Have you ever been on a trade show floor and noticed a trade show booth with LED lighting hanging from a specialty piece such as a lattice, a bridge, or an architecturally interesting piece?  By hanging LED lighting in this way, you generate more interest in your trade show display.  The elements that these lights hang from are often also pulled closer into focus.  People often are curious enough that they'd like to check the lights out for themselves.  Whether cascading, hanging like icicles, or other arrangements, they add a level of sophistication to a trade show display.  Using these LED lights is a great way to capitalize on people's curiosity while in your booth space and have conversations about your products.  A fun accent can become a fun focal point in people's line of sight and together the two can generate more traffic.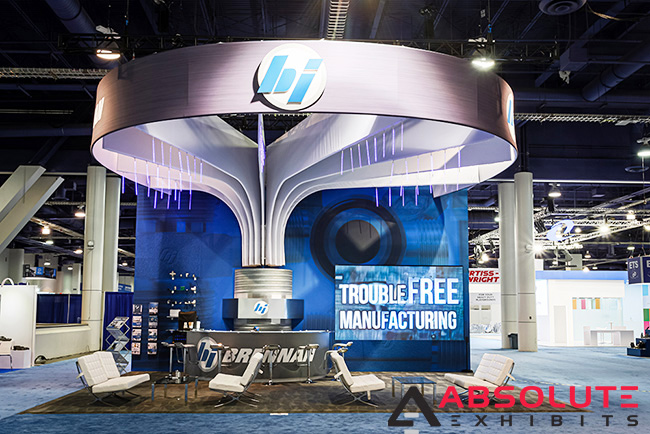 Incorporate LED Lighting into Your Trade Show Display Overhead Signage
On the trade show floor, hundreds of exhibitors, sometimes thousands, are vying for the attention of visitors.  One way to set themselves apart from their competition is with overhead signage.  Yet as people got used to seeing overhead signage over time, they now look for the unusual and different overhead hanging signs.  When your trade show display overhead signage includes LED lights, this stands out immediately as people enter the trade show floor.  What a way to set your brand apart on the trade show floor! People like to take pictures of these kinds of trade show display hanging signs and that's just a fun way to introduce your brand to new audiences.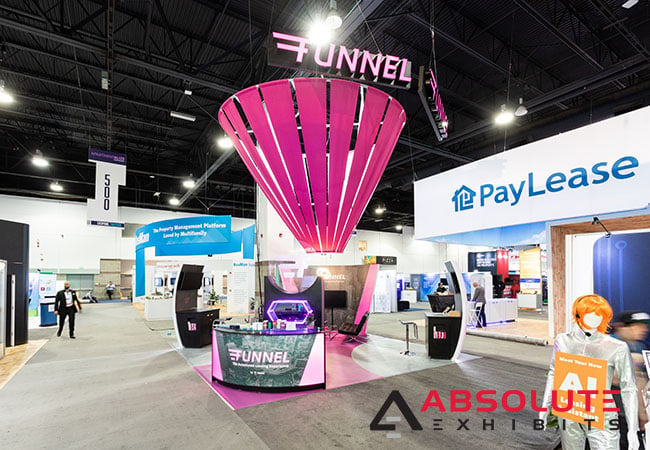 Incorporate More Color and Sense of Fun in Your Demonstration Stations
Demonstration stations can get lost in the floorplan of your trade show display if they're too bland.  Instead of risking people passing them by, incorporate some colorful LED lighting above your demonstration stations.  This can encourage a sense of fun as people pick up your products and test them out for themselves.  With the addition of the lighting to your trade show display in this way, trying products out becomes central to how your booth space is used.  If you've got small products to exhibit, then being able to highlight your demonstration stations is critical to how you exhibit on the show floor. Make your demonstration stations fun with LED lights.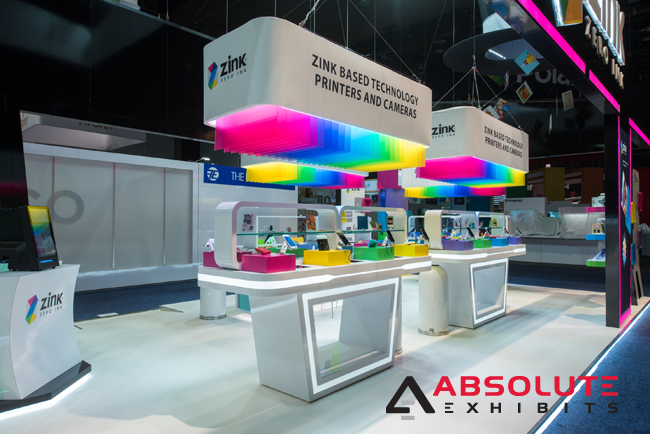 Give Your Reception Counter a Glow with LED Toe Kick Lighting
Have you ever noticed that some trade show display reception counters have a neon glow beneath them?  Many people are intrigued by this glow and often wander over to investigate it for themselves.  This is LED toe kick lighting.  Often included in reception counters, demo stations, or other noteworthy stations, it can bring more attention to the display overall.  Additionally, it can connect the branding and messaging to the product in the minds of show visitors.  When it's all one cohesive visual display, this sends a clear message to your desired audience.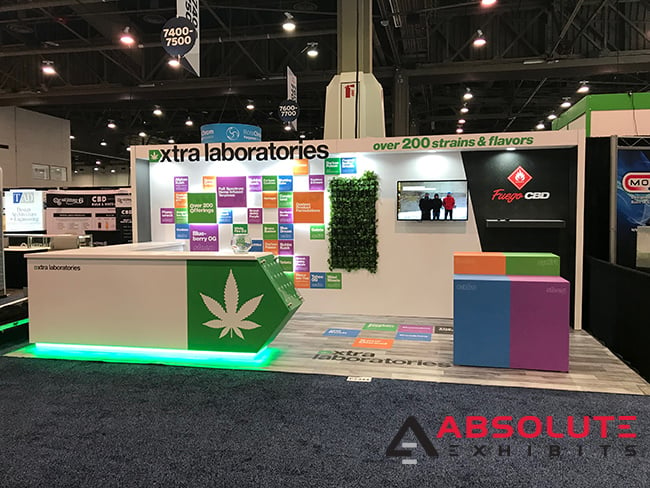 Outline Your Trade Show Display in LED Lighting to Bring the Crowd
What do you do if your brand colors are dark?  How do you stand out on a traditionally dark trade show floor?  One way is to integrate LED lighting into the outline of your trade show display.  This can make it glow and stand out better on the trade show floor.  Your brand will look distinctive instead of cookie-cutter with your trade show display illuminated in this way.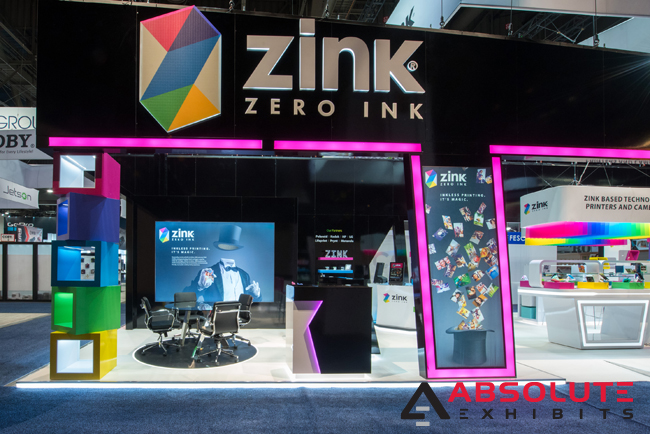 There are many ways in which you can incorporate LED lighting in a fun way inside your trade show display.  These are only a few ideas.  For more creative ideas, consult with your exhibit house partner.  Their design team can come up with something special to align with your goals.